If you are looking for a gold price to either buy or sell gold in NY, then look no further check out the current price of gold in NYC here: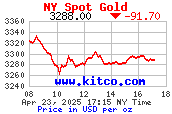 Buy gold in NYC for the lowest price above spot, and sell gold in NYC for the closest price to the spot price of gold. We do both we buy and sell gold depending on the gold price in NY.
If you are looking to sell gold or buy gold, give us a call and let us know what you have, what is your budget if buying and we will recommend gold products to buy like coins or billions that you can have and save, either for retirement or if you are speculating that the price of gold is going to rise and make some money off of selling gold as well.
Gold fluctuates and the price of gold changes daily, so you should always be aware of the current price of gold when selling and buying, and also ask how much premium above the spot price of gold you have to pay. We offer the lowest premiums around, you can either come into our office located in NYC at the address below from monday to friday 10am – 5pm
American Gold Refinery
31 W.47th St #504 New York, NY 10036 212-391-1012  
We have a great team that will help you along the process of buying or selling. You can also call us if you are out of the NYC area as we work nationwide and offer the highest payouts for gold across the country with our mail in kit where we pay shipping and insurance and wire you money the same day.